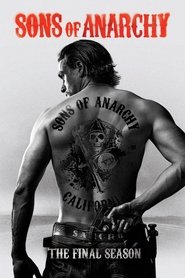 Sons of Anarchy Season 7 (2014)
Season 7 of Sons of Anarchy premiered on September 9, 2014.
The seventh and final season of Sons of Anarchy begins ten days after the tragic events of Season Six with Jax in jail on a parole violation, grappling with his inner demons. With the club's full support, he sets in motion the brutal machinations that will lead to complete and merciless retribution.
Views: 123
Director: kurt-sutter
Actors: Charlie Hunnam, david-labrava, dayton-callie, drea-de-matteo, jimmy-smits, Katey Sagal, Kim Coates, mark-boone-junior, niko-nicotera, theo-rossi, Tommy Flanagan
Studio: Fox 21, FX Productions, SutterInk, The Linson Company